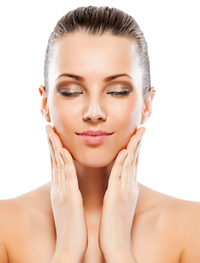 Acne is the occurrence of inflamed or infected sebaceous glands in the skin. However there are numerous factors that can attribute to and affect acne and there are different degrees of the condition. 
The most common problem when dealing with acne is unrealistic expectations. Acne is such a long term problem and has such long term solutions, that a lot of clients lose patience. No skin acts the same and there are so many variable environmental, dietary and hormonal factors that affect the condition it is difficult to normalise the skin immediately.Depending on the severity of the acne treatment normally involves an in depth consultation, to discuss, what products are being used on your skin, lifestyle, medications, stress levels, water intake, dietary intake and other key factors, followed by an initially facial, that hydrates and cleanses, the skin, performing extractions if necessary. It is important that your skin is allowed to heal after this treatment and you cannot wear makeup for at least a couple days after so that the pores do not get blocked again! From this point and before you start an intense course of vitamin A facials, it is important that you then use topical Vitamin A (Environ's AVST 1 moisturiser) daily to build up the levels of vitamin A in your skin so that you don't have was is called a retinoid reaction to the higher levels.
Vitamin A, the magic cream?
Why Vitamin A? It is the only product that changes the skin at the DNA level of the cells, meaning it can normalise the skin, if it is too dry it will hydrate, if it is too oily it will reduce the oiliness and if it is damaged/ aged, it will repair. Using high levels of vitamin A and taking it topically on a daily basis will continue to correct the skin.
After the initial cleansing facial and once the skin has healed usually a course of 6 treatments, 1 a week for 6 weeks is required. These treatments will consist of a cool peel (lactic acid at a low percentage but high PH) which creates a sterile environment, killing bacteria and creates channels in the skin , to allow us to penetrate high concentrates of vitamin A 10,000 times deeper into the skin. This is done using ionophorisis technology, a current that pulsates the products into the skin. Unlike previous acne treatments, it is not painful, but the client should make sure they can commit to a minimum of 6 treatments and severe acne will require more.
Once the magic has worked and your acne is under control, other methods can be used to work on pigmentation scars and scarring which again is another long term process.
If you have acne I think you need to just accept that your skin is more high maintenance than others and being realistic and maintaining your treatments every 4-6 weeks will ensure that your acne will remain under control. It takes commitment and patience to manage acne, but it is possible and when you are ready to commit it is vital that you follow all the procedures, to get the best results!!!
Author: Angelique Bray – Lead Skin Practitioner at Nu Cosmetic Clinic
Note: All products mentioned is now available with Nu Cosmetic Clinic, a Environ Stockist.
Warning
: Use of undefined constant php - assumed 'php' (this will throw an Error in a future version of PHP) in
/srv/users/nuccuk/apps/nuccuk/public/wp-content/themes/skinbeauty/single.php
on line
40