If you're unsure what surgery you want but you know the problem you want to solve, why not book a free consultation with one of the specialised facial surgeons we refer you to who can suggest solutions and help you make an informed decision. The team of experts Nu Cosmetic will refer you to have over 25 years of experience in performing expert facial surgery, so you can be sure, you're in safe hands.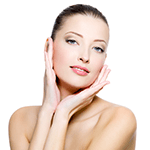 A mini facelift is a specialised procedure that focuses on the lower part of the face. It is an ideal procedure for people experiencing the first signs of ageing. The surgeon or coordinator we refer you to can advise you on all the options available to you and the likely recovery process.
We are located in Liverpool, London, Leeds, Manchester, Newcastle, Nottingham, Sheffield, Belfast, Birmingham, Bolton, Preston, Leamington, and Leicester.