Breast surgery – Our breasts are a central part of our femininity and womanhood. However, many women are unhappy with the size or shape of their breasts. Whether you're thinking of a reduction, enlargement or uplift, Nu Cosmetic Clinic offers a range of breast surgery referrals to help to get the figure you want. The experts we refer you to have over 25 years experience in delivering expert, specialized care, so you can rest assured, you're in safe hands.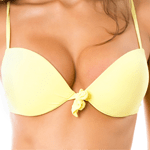 Breast surgery – Also called a "breast enhancement", "boob job" or "breast implants", this procedure can improve the shape, volume and lift of the breasts by placing implants under or over the pectoral muscle. We offer a full range of implants to help you achieve the look you want. At the free consultation, the Surgeon and Client Coordinator we refer you to will fully explain all the different options available to you so you have all the facts to help you make an informed decision.
We are located in Belfast, Birmingham, Bolton, Liverpool, London, Leeds, Leamington, Leicester, Manchester, Newcastle, Nottingham, Preston and Sheffield.