What is Breast Enlargement (Augmentation Mammoplasty)?
Breast Enlargement Surgery is for women who consider their breasts to be too small, not of the same size, or believe that their breasts have lost shape. In breast enlargement surgery, breast implants are used to increase the size of breasts.

How does breast enlargement surgery work?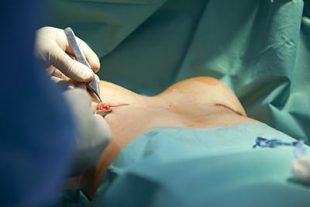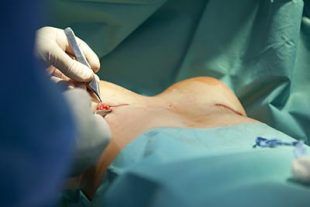 Breast Enlargement surgery procedure involves creation of incisions in your breasts. These incisions may be created under your breast, towards your armpits or around the areola. Then breast implants are then placed either at the front or at the back of your pectoral (chest) muscles.
This procedure takes about one or two hours for successful completion and is usually carried out under general anaesthesia. We do advise overnight stay, however, you may return home the very same day if our surgeon is confident about it.
The implant size and the breast augmentation method used will be determined by your surgeon during the consultation session. This consultation is essential to ensure that the best recommendations and implants are offered that take into consideration your comfort and lifestyle.
Benefits of Breast Enlargement Surgery: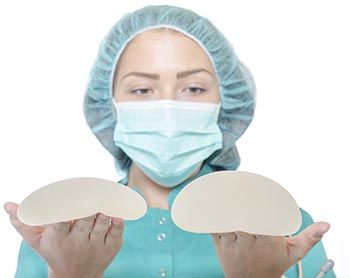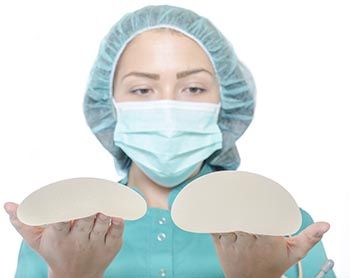 Breast Enlargement surgery can give you a proportionate body by giving you perfect sized breasts

Breast Enlargement Surgery can help you fit into your clothes in a better way

Breast Enlargement Surgery gives you a more youthful figure
Why choose Nu Cosmetic Clinic for your Breast Enlargement Surgery?
The implants the experts use is approved by the FDA so as to achieve best results

The aftercare facilities that the experts offer are of top quality

The team of experienced surgeons we refer you to ensure absolute success when it comes to breast enlargement surgery

The team of surgeons use sophisticated equipment and state-of-the-art facilities to make the procedure convenient and comfortable for you as much as possible

Read some of the Patient Stories and find out how happy our patients are with their results.
What can I expect after the Breast Enlargement Surgery?
Although it is not mandatory, we recommend an overnight stay in our hospital after you have undergone the Breast Enlargement Surgery. We offer excellent after-care service to make sure you are comfortable and confident enough to return home. You may experience some amount of bruising and discomfort after the surgery and we will help you manage the pain by prescribing suitable painkillers. It is better to avoid lifting weight or performing any strenuous exercises for upto 6 weeks from the day of your surgery. You may be able to return to work after taking a good rest for a period of 6 to 7 days.
Breast Enlargement Results:
You should start seeing results within a short span of time after your Breast Enlargement Surgery. However, it might take a couple of weeks for the final results to become evident. Following the instructions given by your surgeon will ensure you heal faster and achieve the expected results. You would be asked to wear a support bra for a few days after the surgery so as to heal faster and reduce your discomfort. Stitches if any would be removed about 10 to 14 days after the surgery. We ensure minimal scarring that will fade away with time.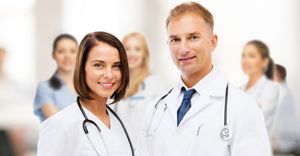 We have been successfully referring patients to top Cosmetic surgeons for over a decade. They have decades of experience and proven track record of best practice standards in the field of cosmetic surgery.
Side Effects and Risks of Breast Enlargement Surgery:
Surgical procedures generally carry some amount of risk within them. However, Nu Cosmetic Clinic refer you to surgeons who takes all sorts of precautions to minimise the complications involved in Breast Enlargement Surgery. Although rare, some known side effects and risks include:
Adverse effects of general anaesthesia

Bleeding and infection

Seroma or Hematoma (fluid or blood accumulation under skin)

Allergic reactions

Changes in sensation
These can however be taken care of, without affecting the outcome of the surgery.
Cost of Breast Enlargement:
The cost of Breast Enlargement surgery may vary from person to person, depending upon the implant chosen and the kind of results that are expected. However, we put together an affordable package that will include the consultations, medical tests, pre-operative screening, surgery costs, medications, hospital stay including meals and after-care. Once a suitable package is determined, you can go through your treatment with absolute peace of mind with no hidden charges.
Breast Enlargement Reviews:
We have successfully referred a large number of clients and helped them achieve their desired results through successful Breast Enlargement Surgeries. We have been fortunate enough to have achieved astounding client satisfaction, which indeed is our goal at Nu Cosmetic Clinic. A couple of the clients we have referred on have even written a few reviews to express their gratitude. You can read these on our testimonials page to get an idea about the quality of services we offer.
Why choose Nu cosmetic Clinic ?

The Surgeons we refer you to are leaders in the field of cosmetic surgery.

Your first consultation with the surgeon is Completely Free.

The Clinics we refer you to are conveniently Located Nationwide

An unrivalled level of Post Operative Care
Nu Cosmetic Clinic will refer you to a team of expert cosmetic surgeons who are specialised and highly experienced in carrying out different kinds of surgical procedures to improve the appearances of our clients, bringing them the satisfaction that they desire. They are assisted by qualified anaesthetists and trained nurses, whose main aim is to see to it that you are in absolutely safe hands, both during and after your surgery. The facilities and equipment they use are sophisticated and state-on-the-art to make sure you achieve your desired results, within the shortest span of time.
Clinics
The Clinics we refer you to are situated in Belfast, Birmingham, Bolton, Manchester, Newcastle, Nottingham, Liverpool, London, Leeds, Leamington Spa, Leicester, Preston and Sheffield.

Award winning, stylish and state-of-the-art, the clinics and private hospitals we refer you to are home to the very best staff and technology.
Nu Cosmetic Clinic Disclaimer:
The results of cosmetic surgery and its benefits may vary from person to person. Therefore, Nu Cosmetic Clinic offers no guarantee on any kind of specific results.
It would be excellent if you can call us to arrange an appointment for a consultation session. During this session one of our experts will evaluate your condition and requirements, suggest the right kind of implants, recommend the right procedure and clarify all queries that you may have about Breast Enlargement Surgeries. You may come back for a replacement of your implants after about 10 or 20 years when you experience a change in your body shape.
How long does the procedure take?
Depending on the complexity of the procedure, the surgery normally takes about 90 minutes, not including time in recovery. 
Are the results permanent?
Yes, the results of a breast enlargement are permanent. However, if you loose/ gain a substantial amount of weight, or you have a baby, your breasts may change shape.
When can I go back to normal day-to-day activities?
We recommend that people take a week off work following the procedure (more if your job is particularly physical). Strenuous activities, heavy lifting and exercise should be avoided for about 6 weeks after your surgery.
Are there any alternatives to this surgery?
No, the only way to reduce the size, or change the shape of your nipples is by surgery.
Can I combine this procedure with other surgery?
Yes, you can combine this procedure with other breast or body surgeries. You can discuss this in full at your free consultation.
What are my choices of implants?
Nowadays, there are a vast number of implants from you to choose from depending on the look you are trying to achieve.
As a guide, you should choose between round or tear drop shape (tear drop giving a more natural appearance), the size of implant you require and the projection.
What is the difference between over and under the muscle?
This concerns the placement of the implant. Your surgeon will be able to advise on the best technique for you, as much depends on your skin, build and desired result.
As a general rule, under the muscle will give a more natural appearance, where over the muscle is sometimes better for women with a moderate amount of sagging.
Will I have altered sensation in the area?
Whenever skin is cut, nerves are also cut; this may result in altered sensation to the area, particularly at the incision site. All care will be taken to maintain sensation as much as possible.
What weight should I be for surgery?
You should be at a healthy weight for your height when you have surgery as this lowers risks related to anaesthetic. For the best aesthetic results, we recommend that you are at your ideal weight at the time of surgery as further weight loss or gain can change the results of your surgery.
When can I fly after the procedure?
You should check with your surgeon regarding safe timings of air travel following your surgery. Many airlines have their own protocols and you should inform your travel insurance company if you have had recent surgery.
We recommend that in the weeks after surgery, you are close to one of the locations Nu Cosmetic Clinic can refer you to in case you have any concerns, so foreign holidays may be best avoided until a few months after your procedure.
Am I too young/ too old for this procedure?
All clients must be at least 18 years of age to have surgery. We do not set an upper age limit for our procedures. Suitability for surgery will be discussed at your free consultation with your surgeon.
Can I get a second opinion?
Yes, if you are at all unsure about what your surgeon has told you. We will be more than happy to refer you for a second free consultation with another surgeon.
Are your surgeons suitably qualified and registered?
All of the surgeons we refer you to are registered with the General Medical Council (GMC) and all relevant specialist bodies. Please feel free to ask the surgeon about his experience and qualifications at your consultation; they understand and support that this is vital information to your decision making process.
Where are your clinics?
Nu Cosmetic Clinic offers referrals to a range of locations across the UK.
Natalie Jones
 Natalie is mother to a young family, living in Merseyside. Recently, she underwent breast augmentation at the Nu Cosmetic hospital. "Before I had my kids, I was low on confidence and this was due to my breasts. After having kids, this condition worsened and I really desired a bigger chest, as well as a lift."
After making hours of research and attending consultations, Natalie booked in for a consultation with one of Nu Cosmetic Clinic´s specialist surgeons. "The information available online for Nu Cosmetic was great. I could relate to the real life stories and gauge the excellent feedback and satisfaction from other clients."
Natalie met with a surgeon for the consultation. This involved discussing the procedure, along with the associated features and benefits. "I felt like he knew me as a person, and could relate to exactly what I wanted". This was in contrast to other clinics Natalie visited, where she claimed it was more what they wanted to perform and not her, in addition to unwanted follow up calls trying to force a decision.
Joanne Holden
Joanne is a 41 year old professional woman from Liverpool. She recently underwent breast augmentation with Nu Cosmetic clinic at their Manchester branch.
"I needed a subtle uplift of my chest, as it was not as toned as in my younger years. I was not looking for a dramatic change, just more of fullness and tone". A full consultation with our medical team and surgeon suggested that Joanne´s augmentation procedure should take her from a CC to a DD/E cup size. This would give her the natural fullness that she sought. It was also recommended by the consultant that this operation is replicated every ten years, for health and aesthetic issues. The breast insert types and sizes were chosen specifically for Joanne based on her requirements and consultant recommendations.
The procedure was completed within one day. An operative time of 1.5 hours meant that Joanne was able to go home the same evening. Outwith this, an initial ´downtime´ of 3-5 days allowed Joanne to return to an almost normal routine shortly after the operation.
"I had to take a few days off work, and took antibiotics as a precaution in the first instance. I was advised to not drive for several weeks (as it could invalidate my insurance). Also I needed to avoid the gym for 6 weeks."
The end outcome? Joanne achieved a result she says is ´really fantastic.´ This procedure has given her more confidence within herself and her daily outlook. This opinion was also shared by her family, friends and colleagues. ´The clinic provided me with a level of care and professionalism second to none, and I have had no doubt recommending them to my friends.´
Breast Enlargement Price
Any form of cosmetic enhancement is very personal, so prices are bespoke dependent on your individual needs. As a rough guide, you can expect to pay from £5250.
A definitive price for your procedure will be given at your free consultation with your cosmetic surgeon or relevant specialist practitioner.
Remember, we often have offers & can sometimes price match other providers, so call us on 08000 30 29 30 with any queries.
Finance
Nu Cosmetic Clinic offers a range of finance options. For more information visit our finance pages.