What is Laser Fungal Nail Treatment
Fungal nail infections are a common problem that affect up to 3 in 100 people. The nail can become thickened and discoloured, making it unsightly and painful, sometimes causing difficulty in wearing shoes and possibly leading to more serious medical problems. Laser Fungal Nail Treatment is an effective, quick and affordable treatment of fungal nail infections.
Laser fungal nail treatment, also known as onchyomycosis treatment, works in two main ways; firstly, the laser kills the parasitic fungi that causes the infection, secondly, it stimulates the immune system and growth processes of the body to restore the nail quickly and effectively.
Before your treatment, we request that you come in and have a chat to one of our practitioners to check your suitability, set a treatment plan and perform a patch test.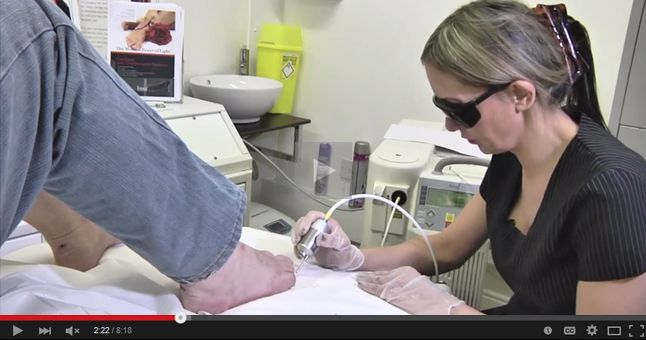 The Procedure
Before the treatment, the nail is filed down to remove excess layers and overgrowth. This allows the laser to work fully and evenly across the nail. The laser is then applied across the whole nail and perimeter of the nail bed as the infection has often spread into the skin around the nail as well as the actual nail. Often, all the nails on the affected foot will be treated as the infection may have spread but not yet be visible.
Depending on the condition of your nail, treatment takes approximately 15 minutes and we recommend a course of 4-6 sessions spaced 1-2 weeks apart. We will suggest an individualised treatment plan for your requirements at your consultation with your specialist practitioner.

Read some of the Patient Stories and find out how happy our patients are with their results.
Later Progress
The treatment is mildly uncomfortable and the laser has been described as feeling like "pin pricks." You will be awake during the treatment and local anaesthetic is not used. You may wish to take analgesia such as paracetamol prior to treatment to minimize any discomfort.
Following your treatment, you may notice some redness and swelling for up to 48 hours. You may feel a little sore but simple analgesia such as paracetamol are normally all that is required. Rarely, the skin may be temporarily slightly discoloured and small blisters can appear which will heal in a short time.
The effect of the laser treatment is normally shown within 6 weeks but the full effect can take 6-12 months while new nail and skin tissue are produced.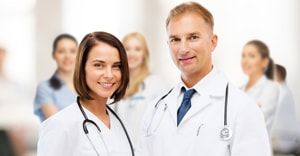 We have been successfully referring patients to top Cosmetic surgeons for over a decade. They have decades of experience and proven track record of best practice standards in the field of cosmetic surgery.
Why chose Nu Cosmetic Clinic for non-surgical treatments?
Nu Cosmetic Clinic has more than 25 years of clinical experience and thousands of happy customers.
• State of the art machines using latest technology
• Highly qualified and experienced clinical team of dermatologists and cosmetologists
• Complete commitment to honesty and integrity so that you get unbiased professional advice
• Exemplary customer service record
• Best in class medical environment with total privacy
Clinics
The Clinics we refer you to are situated in Belfast, Birmingham, Bolton, Manchester, Newcastle, Nottingham, Liverpool, London, Leeds, Leamington Spa, Leicester, Preston and Sheffield.

Award winning, stylish and state-of-the-art, the clinics and private hospitals we refer you to are home to the very best staff and technology.


There are no before-after pictures currently.

How long does the procedure take?
The procedure normally takes 20-40 minutes.
How long do the results last?
The laser treatment will successfully eliminate the fungal infection from the nail. However, the treatment will not stop future infections in the same or other nails.
Will the procedure hurt?
The procedure can be uncomfortable, so local anaesthetic gel is normally used in the area.
How many sessions will I need?
This is very dependent on the severity of infection prior to treatment. Most clients find that between 4-8 sessions are sufficient.
When can I go back to normal day-to-day activities?
You can go back to normal activities the same day. Though we recommend you avoid excessive heat for about two weeks after (e.g. sunbathing, sunbeds, saunas). Your skin may be quite red and swollen for a few days after the treatment, you should consider this if you're planning a trip or special day as you may need to wear specific footwear.
Are there any alternatives to this procedure?
Yes, there are alternative acne treatments, however laser is a proven technique for fungal nail infections.
Can I combine this procedure with other procedures?
Yes, many clients choose to have other procedures at the same time.
Are your practitioners suitably qualified and registered?
All of our practitioners are registered with relevant professional bodies and are hold all required specialist qualifications. Please feel free to ask your practitioner about his or her experience and qualifications; they understand and support that this is vital information to your decision making process.
Where are your clinics?
Nu Cosmetic Clinic offers referrals to a range of locations across the UK.

There are no patient stories for Laser Fungal Nail Treatment.
We have patient stories for several procedures performed at Nu Cosmetic Clinic. You can see all the stories and videos here


Any form of cosmetic enhancement is very personal, so prices are bespoke dependent on your individual needs. As a rough guide, you can expect to pay from £119 onwards.
A definitive price for your procedure will be given at your free consultation with your cosmetic surgeon or relevant specialist practitioner.
Remember, we often have offers & can sometimes price match other providers, so call us on 08000 30 29 30 with any queries.
Finance
Nu Cosmetic Clinic offers a range of finance options. For more information visit our finance pages.