Laser treatments offer simple, painless solutions to a range of skin and hair problems encountered by men and women. All of Nu Cosmetic Clinic's laser practitioners are very experienced and expertly trained. Further, we only use clinically proven, medical grade lasers to ensure you get the best result from your treatment. You can rest assured, with Nu Cosmetic Clinic, you're in safe hands.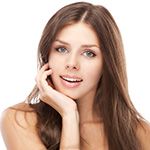 Facial implants can be expertly placed in the jaw, cheeks or chin to add contours and definition to the face resulting in a more attractive and youthful appearance. At your free consultation, your Surgeon will fully assess your face and make recommendations based on what you are trying to achieve. Your Surgeon and Client Coordinator will ensure that you have all the information about your surgery and recovery so that you can make a fully informed decision.
We are located in Liverpool, London, Leeds, Manchester, Newcastle, Nottingham, Sheffield, Belfast, Birmingham, Bolton, Preston, Leamington, and Leicester.