Many people are unhappy with an area of their body contour, whether it be an area of stubborn fat that seems unreactive to diet and exercise or one part of your body that is out of proportion to the rest. Nu Cosmetic Clinic offers a range of body surgery referrals that can help resolve your problem areas and give you the body you desire. The team of experts at Nu Cosmetic Clinic refer you to have over 25 years team experience in delivering expert, specialized and personalized care, so you can rest assured, you're in safe hands.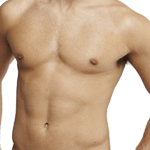 Gynaecomastia is one of the commonest plastic surgery procedures performed in males. Gynaecomastia (often referred to as 'man boobs') is the enlargement of male breast tissue. Enlarged male breasts can be reduced by liposuction and/or by cutting out excess glandular tissue. You will have plenty of opportunity to ask all the questions you need so that you can make the fully informed decision that's right for you.
We are located in Liverpool, London, Leeds, Manchester, Newcastle, Nottingham, Sheffield, Belfast, Birmingham, Bolton, Preston, Leamington, and Leicester.