What is Beard Transplants UK / Moustache / Goatee Transplant
A large section of men consider a thick beard or moustache as a symbol of masculinity. It is also a fashion statement among many men. The ability to grow dense facial hair allows them to style their moustache, goatee and beard and hence change their looks whenever they like.
Loss of facial may become a cause of grave concern leading to loss of confidence and excessive self-consciousness. This may happen because of accidents, surgery, scars or burns, medical conditions or due to genetic causes. Whatever the cause, it is now possible to grow facial hair, using the same principles of hair transplant, for sparse facial hair or patchy hair loss.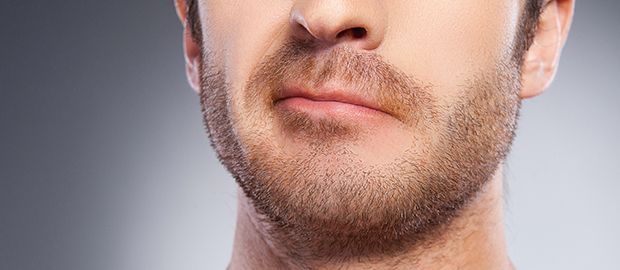 The Beard transplants UK Procedure
The surgeon locates the donor area, which is mostly at the side or back of the scalp. If patient is completely bald then body hair may be used such as hair from the chest area. Using Follicular Unit Extraction (FUE) method, the extracted hair grafts are transplanted at the affected area by the surgeon. The transplanted hair grows like normal hair and can be trimmed or shaved as usual. The procedure may take 2 to 9 hours depending on the extent of hair loss. It is carried out using local anaesthesia.
The results will be natural only if the hair is transplanted at the right place and at the right angle. This totally depends on the surgeon's skill and experience. Hence it is very important that you chose the right surgeon for your procedure. At Nu Cosmetic Clinic, the hair transplant surgeons we refer you to have performed thousands of hair transplants. They have extensive experience and a track record of 100% patient satisfaction.
Later Progress
The procedure has minimal downtime and you can return to normal activities within a few days. The difference will be noticeable immediately after the procedure. However, complete results will be observed only after a few months. It is recommended that after the procedure you should avoid physical activity that might lead to sweating in the area to avoid the risk of infection.
Risks & Complications
As with any surgery, there is a small risk of complications with hair transplant surgery. At the time of your consultation, the expert we refer you to will take you through the risks in detail so that you can take an informed decision.
They will not push you for surgery. They will give you all the time and guidance you need to take a decision. They will give you a comprehensive Hair Transplant Patient Guide to take home with you. This will answer most of your queries and concerns. If you have any further questions, you can give them a call and they will provide their expert advice. You will love them for their honesty, integrity and professionalism.
Clinics
The Clinics we refer you to are situated in Belfast, Birmingham, Bolton, Manchester, Newcastle, Nottingham, Liverpool, London, Leeds, Leamington Spa, Leicester, Preston and Sheffield.
There are no before-after pictures currently.
How does Beard transplants UK work?
In simple terms, a transplant works by taking existing, healthy hair follicles from a conspicuous part of the head and moving it to an area of thinning or patchy hair growth on the face.
How long does the beard transplants UK procedure take?
This very much depends on the amount of hair to be transplanted. Normally grafts take place over a day to prevent fatigue of the client and surgical team.
How many hair follicles will I need?
This depends on the amount of hair loss or thinning, your surgeon can advise on the approximate number of follicles you will need to give a natural appearance.
Will the results of beard transplants UK look natural?
A skilled and proficient hair transplant surgeon will be able to give you a very natural look. However, the skills of hair transplant surgeons vary greatly and it is very important to choose an experienced, well-qualified surgeon to give you the best results.
Are the results permanent?
Yes, as the follicles that are transplanted are from a place that is unlikely to loose hair (often the nape of the neck), your transplanted follicles are very likely to remain.
When can I go back to normal day-to-day activities?
We recommend that people take a few days off work following the procedure (more if your job is particularly physical). Strenuous activities, heavy lifting and intense exercise should be avoided for about 6 weeks after your surgery.
Are there any alternatives to this surgery?
Yes, there are alternatives to hair transplant that people sometimes find effective. These include medical products and special products that you can apply to the area of thinning. You can discuss this with your surgeon.
When can I fly after the procedure?
You should check with your surgeon regarding safe timings of air travel following your surgery. Many airlines have their own protocols and you should inform your travel insurance company if you have had recent surgery.
We recommend that in the weeks after surgery, you are close to one of the locations Nu Cosmetic Clinic can refer you to in case you have any concerns, so foreign holidays may be best avoided until a few months after your procedure.
Am I too young/ too old for Beard transplants UK  procedure?
All clients must be at least 18 years of age to have surgery. We do not set an upper age limit for our procedures, suitability for surgery will be discussed at your free consultation with your surgeon.
Can I get a second opinion?
Yes, if you are at all unsure about what your surgeon has told you, we will be more than happy to refer you for a second free consultation with another surgeon.
Are your surgeons suitably qualified and registered?
All of the surgeons we refer you to are registered with the General Medical Council (GMC) and all relevant specialist bodies. Please feel free to ask the surgeon about his experience and qualifications at your consultation; they understand and support that this is vital information to your decision making process.
Where are your clinics?
Nu Cosmetic Clinic offers referrals to a range of locations across the UK.
There are no patient stories for Beard / Moustache Transplant.
BeardTransplants UK Price
Any form of cosmetic enhancement is very personal, so prices are bespoke dependent on your individual needs. As a rough guide, you can expect to pay £3490 – £5000.
A definitive price for your procedure will be given at your free consultation with your cosmetic surgeon or relevant specialist practitioner.
Remember, we often have offers & can sometimes price match other providers, so call us on 08000 30 29 30 with any queries.
Finance
Nu Cosmetic Clinic offers a range of finance options. For more information visit our finance pages.