What is Wrinkle Smoothing
Wrinkle smoothing solutions are becoming increasingly popular. Allergan Vistabel®, or Botox as it is more commonly known, offers an effective treatment for expression or "worry" lines as well as crows feet and other facial lines. Offering a versatile way to improve skin texture and appearance, the treatment is particularly effective when used on the forehead and eye area. In fact, this treatment is quick, safe, versatile and virtually painless.
Procedure
At Nu Cosmetic Clinic only highly qualified Doctors and Nurses perform the procedure. A small amount of Vistabel® is injected to the affected area, using a very fine needle. An anaesthetic cream may be used in the minutes leading up to the procedure to reduce sensitivity, but most patients do not feel any pain. The anti-wrinkle injection works on the affected muscle group, discomfort is usually minimal and significant results can be seen from the first treatment.

Read some of the Patient Stories and find out how happy our patients are with their results.
Later Progress
Results can be seen in 3-7 days, with the maximum effect usually seen at around 7 days. Repeat treatment is often necessary every 3-4 months, although this varies on individual basis.
After the injection some swelling and redness can be expected, but this would gradually disappear within few days, sometimes as quickly as within the first 12 hours following the treatment. For those cases where deeper, more problematic lines exist, skin plumpers (also called dermal fillers) can provide a good alternative as they are designed to reach larger areas.
Benefits of wrinkle smoothing using Botox
• Little or no down time, you can resume your routine activities immediately after treatment
• The treatment is personalized and tailored for your individual needs
• It is an FDA approved treatment and is absolutely safe. The results have been proven worldwide.
• This is a non-invasive procedure, you don't have to go under the knife to look young.
• The results are not permanent, it will naturally break down over time.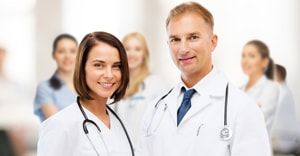 We have been successfully referring patients to top Cosmetic surgeons for over a decade. They have decades of experience and proven track record of best practice standards in the field of cosmetic surgery.
Why chose Nu Cosmetic Clinic for non-surgical treatments?
Nu Cosmetic Clinic meets CQC standards of quality and care. It has more than 25 years of clinical experience and thousands of happy customers.
• State of the art machines using latest technology
• Highly qualified and experienced clinical team of dermatologists and cosmetologists
• Complete commitment to honesty and integrity so that you get unbiased professional advice
• Exemplary customer service record
• Best in class medical environment with total privacy
Clinics
The Clinics we refer you to are situated in Belfast, Birmingham, Bolton, Manchester, Newcastle, Nottingham, Liverpool, London, Leeds, Leamington Spa, Leicester, Preston and Sheffield.

Award winning, stylish and state-of-the-art, the clinics and private hospitals we refer you to are home to the very best staff and technology.
There are no before and after pictures currently.
How long does the procedure take?
The procedure normally takes around 15 minutes.
How long do the results last?
The effects normally last around 3 months, however the more times you have the treatment, the longer the treatments tend to last.
Will the procedure hurt?
The procedure is relatively painless.
How many sessions will I need?
Most clients only require one session to achieve the desired results.
When can I go back to normal day-to-day activities?
You can go back to normal activities the same day. Though we recommend you avoid excessive heat for about two weeks after (e.g. sunbathing, sunbeds, saunas). There may be some bruising in the area so you may want to consider this if you are planning trips away or special days.
Are there any alternatives to this procedure?
Only wrinkle smoothing will stop the movement of the muscle and therefore the line worsening. Other procedures such as peels and dermal fillers can help lessen the appearance of lines and may be used in combination with wrinkle smoothing for a better result.
Can I combine this procedure with other procedures?
Yes, many clients choose to have other procedures at the same time.
Are your practitioners suitably qualified and registered?
All of our practitioners are registered with relevant professional bodies and are hold all required specialist qualifications. Please feel free to ask your practitioner about his or her experience and qualifications; they understand and support that this is vital information to your decision making process.
Where are your clinics?
Nu Cosmetic Clinic offers referrals to a range of locations across the UK.
Charles
Charles is a 38 year old Journalist from Glasgow, Scotland. In July he started to undergo a series of "facial rejuvenation" procedures with Nu Cosmetic clinic at their Liverpool branch.
"I was the wrong side of thirty, and although I was happy with the rest of my appearance, I had ´tell-tale´ lines forming around my forehead, but more importantly, the two vertical lines between my eye brows were making me look older (and angry). I did not want a dramatic change, just to freshen up my skin, but more importantly, to minimise these lines."
Previously, Charles had attempted glycolic peels, and most of the high end skin moisturizing treatments. It was when a friend commented on how these lines were "making him look angry" that he chose to have them more professionally dealt with. "I was aware of Nu Cosmetic, as a friend had her lips done. I also saw that they were shortlisted for the Juice FM style awards. After looking at their website, and reading the positive feedback, I decided to meet with the consultant for more information."
Any form of cosmetic enhancement is very personal, so prices are bespoke dependent on your individual needs. As a rough guide, you can expect to pay £99 onwards.
A definitive price for your procedure will be given at your free consultation with your cosmetic surgeon or relevant specialist practitioner.
Remember, we often have offers & can sometimes price match other providers, so call us on 08000 30 29 30 with any queries.
Finance
Nu Cosmetic Clinic offers a range of finance options. For more information visit our finance pages.