Ageing gracefully or disgracefully is a matter of choice now! Everybody wants to hold back the signs of ageing, but when it comes to anti-wrinkle treatments where do you start? The answer is easy – at Nu Cosmetic Clinic, we are staffed by friendly experts who can guide you through the process of keeping those wrinkles at bay.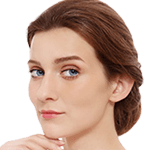 Wrinkle's develop for a number of reasons including environmental (sun, smoking, pollution, diet), facial expressions, genetics or the natural ageing process. At Nu, we have a number of non-surgical options to treat lines and wrinkles including Botox ®, fillers and peels. Our expertly trained non-surgical practitioners will carefully assess your problem areas and make individually tailored recommendations based on your skin needs.
We are located in Liverpool, London, Leeds, Manchester, Newcastle, Nottingham, Sheffield, Belfast, Birmingham, Bolton, Preston, Leamington, and Leicester.